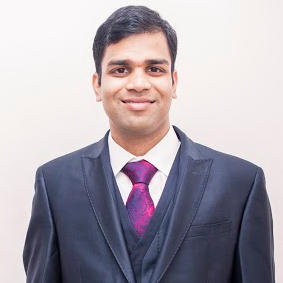 Hello people. My name is Harikrishna Natrajan and I have been a software engineer since 2006. In 2015, I decided to plunge into entrepreneurship and that has started a whole new life for me.
Software and technology. They have been part of me since I was 10 years old. My school was very quick at adopting computer science. But while most schools around were happy to teach word processing with Wordstar, our school leaped several steps ahead by introducing programming using BASIC as the very first step. It kick-started the thought process on how to build solutions issuing step by step instructions to a computer in my very young mind.
With such strong foundations, it was only a matter of time that I would discover that programming was what I was fascinated with and would use to build my career. Unlike a lot of boys who'd still be figuring out even at the age of 15 what they wanted to study in graduation, I was very clear by the age of 12 (7th grade) that I would pursue higher education in computer science and become a software engineer.
It would be ungrateful of me to not admit that I was tremendously aided by my surroundings during my high school days. My school's computer lab was marvellous. One of my uncles was a computer hardware expert during the 1990s, a decade when most Indians wouldn't have seen a computer, let alone use one. Two more uncles were in the software industry and I gained a lot of useful insights into the software industry from them. One of my closest cousins was studying software engineering from a prestigious engineering college. He would soon get picked up by Texas Instruments and is still one of my role models. He has gone on to become a leading standards delegate at Cisco.
I spent my high school and college days learning things on my own. I was also my locality's early adopter of sorts. I was one of the first to have a desktop computer at home, the first to buy a digital camera, the first to install and continue to use Linux on my computer for day-to-day use, the first to get Internet connectivity and the first to use a Wi-Fi network. The early mover advantage helped me gain fluency over a lot of basics pretty early on.
I used the first mover advantage during my jobs as well. With my rather strong opinions in favour of open source software and against anything proprietary, I knew that it was hard for me to fit into the standard IT companies of the time (circa 2006, when most companies were Windows solutions based). I sought out a company which was working on Wi-Fi networking devices and using Linux to do so. Then when Android came in, I was one of the earliest Android developers in 2010. This was followed by a stint in Malaysia with Blaupunkt in 2013, where I was working on Android for car dashboards when Google and Apple had still not released Android for Auto or Apple CarPlay.
Eventually, as a by-product of working with startups, I become well-rounded at full-stack development, which is the ability to develop on multiple targets, such as smart phones, servers, web applications, embedded systems and the Internet of Things.
Over years, some of the immature opinions that I used to have as a young programmer have made way for a much more mature understanding of technology and its role in this world. Instead of thinking of technology as an end, I have started thinking of it as the tool to achieve ends. Instead of confusing people with jargon about which technology to use and which is the best, fastest and the latest, I talk to them about what problems they are looking to solve and to leave the pains of technology to me, so that they can concentrate what they do best. In fact, there are times when I tell people that technology and automation might not be the best solution for a given situation and that it should only be used where a human might find a job too mundane, too physically tough or too time-consuming.
If I were to be asked what my life's mission using technology is, I would say: To make the world a smarter place by automating the mundane, one chore at a time.